Career Coaching with Life Coach Catharine Ecton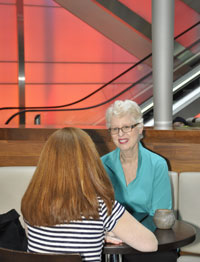 Life coaching in busy Washington, DC often means Catharine assists clients who are making big career transitions. Her busy Washingtonian clientele spend much of their week at work, and often find a lot of their self-worth is wrapped up in their career. Our careers are such an important part of who we are, it's no wonder that career transitions can be a crucial moment for personal reflection, reinvention and change.
Curious whether career coaching is right for you? Book your complimentary initial career coaching consult with DC Life Coach Catharine Ecton today.
* Based in DC & serving the world, Catharine will follow up personally within one business day of your request.
Career Coaching Success Story
One of Catharine's clients, Jim (name changed to protect confidentiality), had been with the same organization for six years. Personnel changes brought some major shifts in his company and Jim was being let go.
Jim came to Catharine Ecton Coaching for help in accepting this unexpected and distressing change. Jim sensed the unique opportunity that being let go gave him. He felt this might be a chance to reinvent himself as he focused on finding a new job.
"Following his agenda and using coaching tools and worksheets, we examined his passions, interests and values," says Catharine. "How did he want to spend his time, how did he want to connect? What did he have to contribute?" Together with her client, Catharine set up a plan of vigorous networking, specific monthly goals, practicing his 'elevator speech,' asking others for support and learning to be authentic.
Here are the steps Jim went through during coaching. He was able to:
Establish that something had ended,
Commit to making a change,
Decide to move out of his comfort zone to a different position but in the same field,
Open up to others, develop confidence and ask for support,
Shift his mindset to one with greater self-understanding and belief that he was worthy of big changes.
These steps took time and work but Jim was determined to find a job that brought out his best.
How Catharine Can Help You Define and Reach Your Career Goals
As an accomplished life coach and educator herself, Catharine is expert at helping her clients develop clear-cut goals, deciding when to make a change, and achieving real satisfaction. She is celebrated for her work as a life coach working with individuals and professionals to design and live extraordinary lives. Her master's degree in education, life experience, achievements, and fulfillment as a late-life sports competitor give her the perspective and insight to coach her clients to success.
Whether you are in the planning stages or already on the move, Catharine can help you make that smooth job transition that will help you fulfill your potential to "do what you love, and love what you do."
What is Career Coaching?
"At Catharine Ecton Life Coaching, I give my clients guidelines and tools to adapt to big career transitions," says Certified Life Coach Catharine Ecton. "I also help them rediscover all the positive qualities already within them to help them unlock the life of their dreams."
Catharine has coached clients whose career transition entails:
Permanently or temporarily leaving or re-entering the workforce
Exploring and taking steps toward a new professional identity
Re-arranging their career landscape to support their unique interests (i.e. multiple career options) or needs (i.e. balance)
Changing career paths within an organization
Effectively managing a job search
Creating an exceptional life post-retirement.
Professional Training
Catharine received her training at the CTI (co-aCTIve) Institute, an organization with a 25-year track record of success whose founders were among the initial pioneers of the life coaching profession. "Seven Habits" author Stephen Covey praised CTI's manual "Co-Active Coaching", and the organization boasts rigorous and consistent standards for its students. While participating in classroom work, coaching practicum and teleconference coaching, Catharine learned the co-active model, a powerful process for engaging with clients that is supported by the most up-to-date scientific research. A life-long educator, Catharine uses a powerful process based on her training at CTI. She became certified after a rigorous examination and practicum, and is pleased to use her skills to inspire her clients to exciting new beginnings.
Career Coaching and You
Are you ready to start a new chapter in your career, or are forces beyond your control making this the moment for you to start afresh? What changes do you want and need to make to pursue your dreams through your work?
It may be obvious when we are unhappy, going through the motions or stuck in a "rat race" in our career – but it can be difficult to articulate what gives us true joy – and take concrete steps to get ourselves off the hamster wheel.Contact Catharine Ecton for a complimentary, no-obligations 30-minute life coaching consultation and let's discuss the possibilities. Or use the Appointment Scheduler and pick a time that works for you. Catharine coaches 90% of her clients over the phone or via Skype.
Catharine Ecton provides Career Transition Coaching for many diverse, interesting individuals from all over the globe and enjoys a high client satisfaction rate. Caroline Miller, reknown author, certified professional life coach and motivational speaker says Catharine "coaches beautifully while also role-modeling the resilience and courage needed to make hard choices." Read more of Catharine's client testimonials.