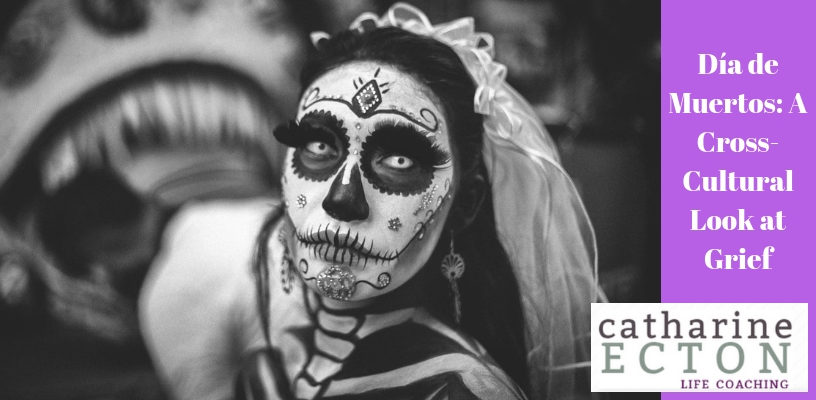 Over the past few months, close friends and clients of mine have come to me with these experiences:
Death of a parent

Death of a spouse due to dementia

Change of a spouse due to Alzheimer's

Ruptured relationship with a best friend

Death of a sibling

Loss of a job

Loss of a community because of move

Divorce after a long marriage

Empty nest with child going to college
All of these events touched me deeply and brought home the fact that grief is inevitable. Loss and regaining a sense of balance are issues we all struggle with. Time alone cannot cure the sadness of many of life's experiences.
A Cross-Cultural Study: Día de Muertos
Over the past few years, sugar skull face painting has become a hip trend around Halloween. There is more to this culturally appropriated trend than we may realize. The skull – or calavera – has a rich cultural meaning that's tied into the Day of the Dead – Día de Muertos.
Many think of it as the Mexican Halloween, but closer study shows it goes much deeper. It's a joyous cultural celebration honoring the lives of the departed. It's believed that for two days – starting on the eve of October 31st to November 2nd – that the gates of heaven open, allowing loved ones to come back from the dead and walk among the living.
Rather than the spooky American counterpart, Día de Muertos is a colorful, lively holiday that celebrates the departed souls of loved ones and friends like you would celebrate a birthday. There is no mourning or sadness, simply celebration. It is believed that for these two days, friends and family can reunite with loved ones, and take part in the festivities. Families make colorful altars in their homes to honor their deceased loved ones, and the altars are decorated with flowers, candles, and often their loved one's favorite food. The festivities continue in the cemetery, where families bring picnics, play music and sometimes even spend the night as a way to celebrate the lives of those who are no longer on this earth.
The Universality of Grief
This season, Día de Muertos reminds me of the universality of grief. It touches all of us despite age, gender, culture, creed or religion. Everyone experiences loss, but we don't all approach it the same way.
Día de Muertos incorporates many symbols of death, including the black veil, skeletons, marigolds and the skull itself. In western culture, we tend to think of many of these as gruesome or scary objects, but in Mexico, they have a positive connotation. Rather than death being the final stage of life, it is seen as a rebirth into a higher state. The now-trendy skull face painting symbolizes the living overcoming their fear of death. The hope is for a reconnection with the loved ones lost. The world of the dead, according to Aztec mythology is called Mictlan, a beautiful world where we all want to be.
Regardless of our cultural or religious beliefs, a reconnection with the happy times spent with loved ones we have lost can feel comforting. Expressing gratitude for the good times and the gift of the person while they were in our lives is a way to make the poverty we feel after losing them more bearable. Juan Castaño, a Mexican-American from El Paso, describes his first experience with Día de Muertos in an interview with NBC news:
"I remember looking at the altar and putting coffee there, because my dad loved coffee. My mom said, 'No, he would never like it like that — and she took it away and made it piping hot with a little sugar, and the experience created a conversation between us. Dia de Muertos is very powerful, because you feel peace and a beautiful experience remembering someone and celebrating what they did and who they were."
Moving Through Grief
Grief begins as an overwhelming force. We see everything through the "veil" of our mourning. In our own time, we are able to push the veil aside and see things clearly again. The timetable is different for everyone and things are never "the same", but we are able to regain balance.
This process begins with recognizing and with wanting to let go of our grief. At first we may resist letting go of it, because it may feel like letting go of the person we so dearly loved. Sometimes our friends and family unwittingly move us backwards via their expressions of sympathy and compassion. Having people around us to engage in conversations and memories can provide great comfort, but can also keep us from moving forward on our own time.
Life Coaching for Grief & Loss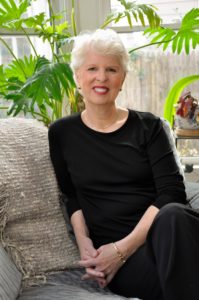 At a certain point and in your own time, you will decide it is time to move on and regain your life. It begins with deciding to let go, not of the good memories nor of the situation, but of the cloak of sadness that paralyzes you from taking a new direction.
Here are the steps I explore with my life coaching clients:
Commit to re-discover life. It will never be the same. But it can be wonderful again, in new and unexpected ways.

Take an action, any action that will help you smile.

Express your thoughts and feelings. Each day will be different. It's okay to have ups and downs, movement forward and setbacks. It's all part of the process.

Make plans and goals for the future.

Connect with people who lift you up.       
This is your grief and loss process, not anyone else's. Friends, family and inexperienced coaches might be good at telling you what to do or constantly giving you advice when you come to them with a problem or idea for change. You can even find plenty of instructions or advice for "living your best life" on the Internet. As a trained and certified Life Coach, my job is not to instruct or advise. My job is to help you explore and come up with the best choices for you based on where you want to be, and develop a concrete plan with actionable steps to get there. Unlike self-help books or the Internet, I'm working collaboratively with you, using guided conversations, proven assignments and exercises, and accountability tools that really work. Unlike your friends and family, I'm an expert at the process of changing behavior – which is much more valuable than instructions or advice when you truly want to make a change. Warning: it also may be far more effective! Contact me, Catharine Ecton for a complimentary, no-obligations consultation and let's discuss the possibilities together. Or use the Appointment Scheduler and pick a time that works for you. I coach 90% of my clients over the phone and via Skype.