Dear Clients,
I have learned so much from you. As I approach my birthday this year, I am taking stock once again of where I am and where I want to be in six months. Moving forward is hard work and as you know, requires being intentional, committed and making a plan.
I am very grateful for my work with its many rewards. I want to do more! I continue to develop coaching skills with the additional coaching courses I'm taking, research, reading and my own coach (naturally I have one, I believe in this process!). I would love for Google Reviews to reflect all of this hard work.
So I am asking each of you if you could complete a Google Review. This gives prospective clients the confidence they need and real-life experiences to help them understand coaching. Google Reviews are just like testimonials. They are public and help boost my online reputation.
It is four easy steps, illustrated in the screenshot below:
Type www.google.com into your browser & search life coach dc as shown
You will see a map of DC. Scroll to my name, the 3rd listing that pops up below the map. Click "Catharine Ecton Life Coaching."
"Catharine Ecton Life Coaching" in a larger, bold font will pop up as shown. Click "Write a Review." Use the five star system & click on the corresponding star to rate me.
Write a brief testimonial the "Describe your experience" box and click "Publish."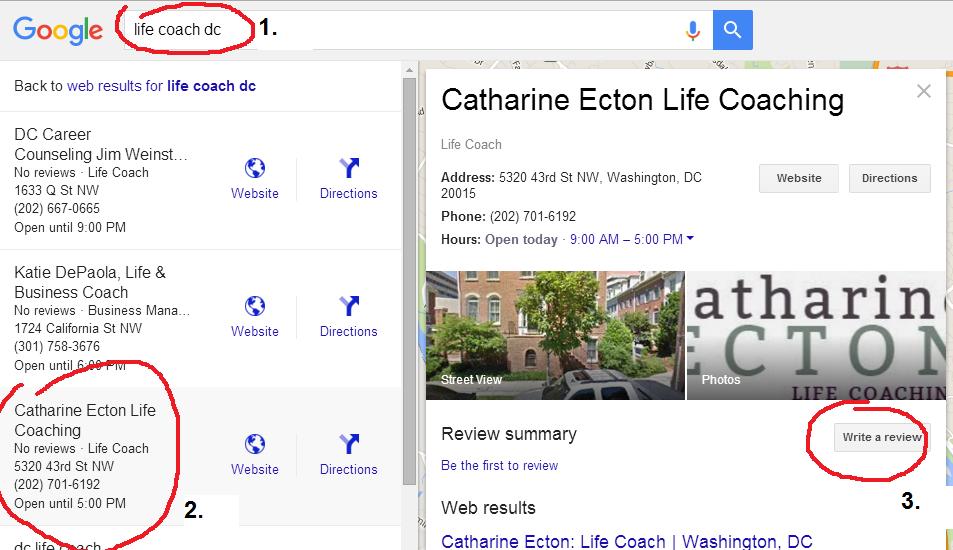 Your positive words will help make this one of my best birthdays ever!
Thank you so very much.
Catharine