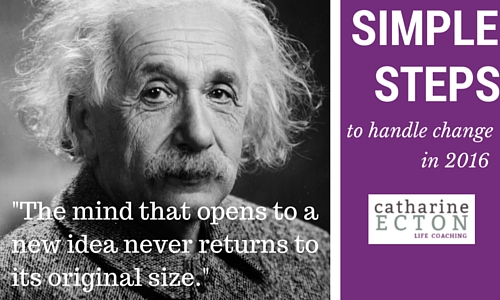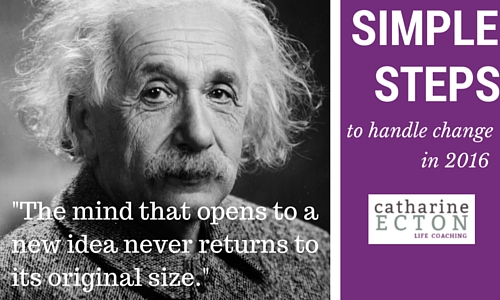 [huge_it_share]Albert Einstein famously said, "the mind that opens to a new idea never returns to its original size." Of course, Einstein was speaking metaphorically: once you open yourself up to something new, you cannot go back to not knowing. You are now curious, ready to explore. Going back to your "same old way of thinking" is impossible. You have grown and changed, and that is a beautiful thing.
I recently read that after Einstein's death, scientists actually acquired his brain for research. He was so ingenious that they wanted to examine how his brain may have impacted his ability to see the world differently, make so many connections and discoveries. While they found that his brain was average in size, it had some very important structural differences from the typical brain. He didn't have more neurons than average, but researchers found that his brain structure allowed for better connections between them.
As you close the door on 2015 and welcome 2016, there may be some opportunities to reflect on past changes and how you handled them. Did you follow the "same old way of thinking," or did you open yourself to new possibilities? (If you're feeling "stuck" in your career, read my previous post Instead of New Year's Resolutions, This Year Try Goals.)
Change is inevitable in this life. As we approach 2016, take a look at your life and what might change. Chances are high that there will be changes in:
your family situation
job
health and/or
personal environment
Your response will either help you thrive and grow or not.
How will you respond? Do you want to go down the same old path, or are you ready to take advantage of opportunities that will help you thrive, learn, grow, strengthen and make new connections?
Change comes in many forms:
 The loss of a job
 Unexpected financial losses or gains
 Relationships that end or take on a different meaning
 The normal changes associated with aging
Life Coaching will help you choose to be intentional about facing changes that will encourage personal growth and learning by using change to your advantage and making it the beginning of something else. Life Coaching is extremely helpful when you know what you need to do, but you need support, accountability and concrete steps to get there. Life Coaching is also great when you know a change is necessary, but you're not sure what it will look like or what you want.
Simple Steps to Help You Handle Change in 2016:
 Let go of trying to change other people
 Let go of the fear of unforeseen changes or challenges
 Let go of the resentful feeling you have about your job
 Let go of the task of thinking that you are responsible for how the world turns
Be intentional about your inner world, the world of your thoughts, feelings and desires.
Tape these to your mirror so you can read them morning and night! Make them your mantra. For the coming year:
 Be ready to face changes and challenges by accepting that change may be awkward but is also an opportunity to move forward,
 Take a proactive position to do something to new and personally fulfilling,
 Focus on your future.
If you've adopted a new way of thinking and know you cannot go back to the "same old way," Career & Life Coaching sessions are for you. They are intensive one-on-one conversations by phone or Skype with me, Catharine Ecton. Subject to your needs and schedule, we'll meet once or twice per month for three to six months. By the end of their sessions, many clients have told me they feel empowered, authentic, happier and/or more in control of their lives. Read more Testimonials here.
Contact me for a complimentary, no-obligations life coaching consultation to discuss my Life Coaching for Authenticity program. Or use the Appointment Scheduler and pick a time that works for you. I coach 90% of my clients over the phone, and my DC-based Life Coaching clients have the option of meeting with me in person. I look forward to helping you make 2016 YOUR year.