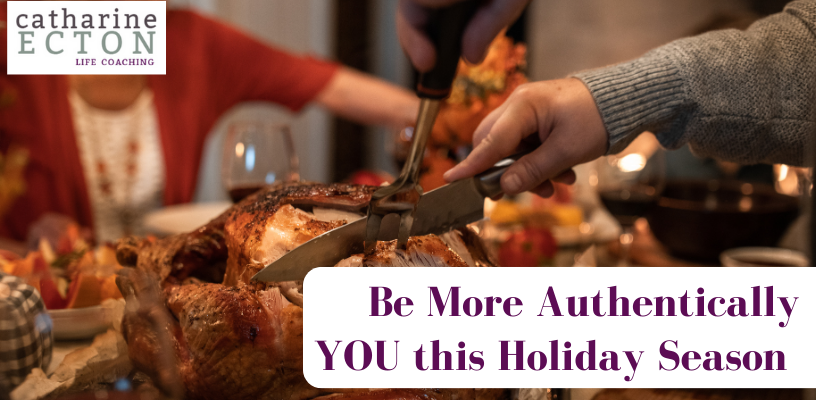 Living with authenticity has been a theme for my Life Coaching clients through the years.
My clients want to be true to their own:
personality,
values,
and spirit,
regardless of pressure to act otherwise.
But what does this mean when gathering with family around the holiday table?
Some of us have families who truly know us and love us for who we are.
Some of us are hiding, or putting on a persona so that our families will accept us.
Others of us blatantly don't get along with family, so the holidays are a time to avoid deep conversations. Many are grieving the loss of spouses, parents, friends, and the years that have passed.
Maybe the person we believe ourselves to be is not who we really are but a "persona" we've built—a role we've developed and learned to play with others.
The word "person" comes from the Latin term persona, which means mask.
The problem with masks is that none of them are perfect. Their crafting process inevitably creates cracks, scratches, and flaws—those aspects of ourselves that we're told as we're growing up are "bad" or "wrong." Eventually, we become ashamed of these parts of ourselves, doing all we can to prevent others, and even ourselves, from seeing them.
Since we're convinced that this mask or persona is our true identity, we continue to try to make it presentable and permanent. This is reflected in countless ways, such as in our need to meet social norms, or the expectations we impose on ourselves or that others impose on us. If you believe "I am physically beautiful," you might have trouble with the aging process. Or if "I am successful," the loss of a job would be devastating. Maintaining the "me" can leave us exhausted, because no matter what we do or accomplish, it's never enough. Who we are, it seems, is never enough.
Many of my clients get to this point and realize that to find peace within themselves, they must uncover their true values – which define who they truly are, at their core – and live according to those values.
This awareness – that we haven't really defined or perhaps aren't living according to our values – is where the magic begins.
Tips for Family Gatherings
There is a time and place for the guidance and counsel of family members. But constantly asking for opinions and living for the approval of others will do nothing but hinder your authenticity.
To really tap into the magic, silence the noise. Ask yourself what it is that you want to do. Have you been contemplating a career move? Search in your own heart and mind for the answer. Are you having doubts about a relationship? Seek answers from yourself in solitude or with the guidance of a neutral third party, like a life coach.
How do you want to walk through the doors of your family gathering this holiday season? Now is the perfect time to figure out who you really are, and to begin to take steps to live that way.
As you learn more about who you are and how you want to live, you might start to better understand and define the reasons you gather together with friends and family around the holiday time. Defining your purpose, and having a shared purpose with friends and family, can foster a more authentic and positive connection with the people you love. This can also help you focus on the common thread, and avoid alienating or contentious topics around the holiday table.
Life Coaching for Authenticity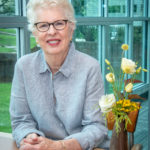 My life coaching clients want to be balanced, fulfilled, and "real." They are tired of living a life to please other people and following a dream that is not theirs. Many of us wear masks that hide what is authentic and true. Most of us think we are doing the best we can.
I think we can do more and do better if first we are true to ourselves. Showing up as ourselves is the real magic.
Life coaching with me can help you examine:
How it's possible to create your own success
Ways to change your mindset
The risks and rewards of taking the step to "unmask" and be the person that person you really are
The baby steps needed  to let go of perfectionism, which leads us to hide parts of ourselves from others
What you can do every day that brings you joy, energy, and moves you toward living the way you want to
I believe you can create whatever your heart desires – a successful business, passionate relationships, daily happiness. Often, the reasons I see people struggling with creating what they want is because they are stuck:
Needing other people's approval
Bowing to other people's definitions of success
Trying to be everything to everyone
Waiting for just the right moment to have "me time"
In a cycle of comparison and perfectionism
Doubting their own ability to change
Contact me, life coach Catharine Ecton, to start living an unmasked, authentic, and healthy life drawing on my "co-active coaching" approach. Let's chart a course to the truth of who you are and discover why being yourself is the ONLY answer.
Each "Life Coaching for Authenticity" session is a 50-minute one-on-one conversation by phone. Our calls are twice per month for three to six months – frequency is up to you. By the end of our time together, you may begin to see yourself differently. You may not need others' approval as much, and you'll definitely feel freer. You'll see that it is possible to change and find your voice, power, and passion through "unmasking," and how good it can feel to get reacquainted with that self you've hidden.
Contact me for a complimentary, no-obligations life coaching consultation if you need an ally in this work. Or use the Appointment Scheduler and pick a time that works for you. I coach 90% of my clients over the phone, and my DC-based Life Coaching clients have the option of meeting with me in person. I look forward to hearing from you.