Spring is a time of transitions, and relocating can be one of them. Many of my life coaching clients are on the move for job and life changes. A common worry is of fitting into a new community and marketplace while finding a fulfilling lifestyle for themselves.
10 Life Coaching Tips for Resilience
Ever notice how some people are stressed during transitions while others seem more flexible, able to just roll with life's changes?
My personal and practical experience has its foundation in over 15 moves and transitions of all sorts, and my collaborative approach has provided comfort, direction and confidence to countless DC area life coaching clients. Over the years, I have found that people with emotional resilience are able to cope with stress and changes in a healthy way. The good news is, resilience is typically developed in early childhood but it can be learned by adults as well. Resilience can be defined as one's ability to successfully cope with adversity or change; the ability to bounce back after a transition.
In a world where change is frequent, it can be a challenge to keep things in perspective, accept change, find and become part of a new social group or community. Here are my top ten tips for building resilience, so you can handle your transition to a new geographic location with ease:
Stand in your own identity. Who are you? This question can be a complex one, even for mature adults. One you answer this question with certainty, in your new environment it is key to stay true to yourself and your values as you learn to exist in a new space. Remind yourself of your strengths and accomplishments. When you hear negative comments in your head, practice immediately replacing them with positive ones, such as, "I can do this," "I'm a great friend/mother/partner," or "I'm good at my job."
Cultivate a positive attitude. Notice and adjust your reaction to others' feelings and beliefs. When you're upset by something someone else says or does, learn to first sit with discomfort and listen to what your feelings are telling you instead of acting right away. Cultivate more of what you want instead of what you don't. In every situation, there's always something to be thankful for.
Build tolerance. How tolerant are you in accepting others' behavior? Are you fighting to resolve a situation, or fighting to win it? In any moment you can choose what's more important to you: the relationship or your pride. Emotionally resilient people know that being right is not what will make them happy. Sure, it's nice to be right, but it's better to have peace.
Let go of having all the answers. Often, when we try hard to find the answers, we unwittingly put blinders on. Emotionally resilient people remember that it's okay to not have it all figured out. Take this time to build on your own self-understanding and awareness, and the answers will naturally come.
Find a sense of purpose. Living with purpose and by your values might mean becoming involved in the community, cultivating your spirituality, or participating in activities that are meaningful to you. All of these things can play an important role in your adjustment.
Think about the future. What would your future self want or do? Think about your future perspective, what you're looking for, and you really want from this transition. If you've ever said to yourself, "Hindsight is 20/20," you know that when we're in the trenches, it's hard to see the big picture. Imagine your future self looking back at your transition and you'll gain some perspective.
Develop relationships with others to create a community of support. It's important to have people you can confide in. Having caring, supportive people around you can act as a protective factor. While simply talking about a situation with a friend or loved one won't make your troubles go away, it allows you to share your feelings, get support, receive positive feedback, and come up with new perspectives.
Become more open. Acceptance is not the same as complacence. It's not about giving up; it's about experiencing your emotions and trusting that you'll bounce back. Be open to a path that you may not have considered.
Search for information beyond what is readily available. Simply waiting for a problem to go away on its own can prolong the crisis. Instead, start working on resolving the issue immediately. While there may not be any fast or simple solution, you can take steps toward making your situation better and less stressful. Research shows that people who are able to come up with solutions are better able to cope with problems than those who cannot. Experiment with different strategies and focus on developing a logical way to work through common problems. By practicing your problem-solving skills on a regular basis, you will be better prepared to cope when a serious challenge emerges.
Engage in self-care. When you're stressed, it can be easy to neglect your own needs. Losing your appetite, ignoring exercise, and not getting enough sleep are all common reactions to a crisis or big change. Prioritize your self-care skills, especially when you're troubled. Make time for activities that you enjoy. By taking care of your own needs, you can boost your overall health and resilience, and be fully ready to face life's changes and challenges.
I'm Listening. Let's Work on Resilience Together Through Life Coaching.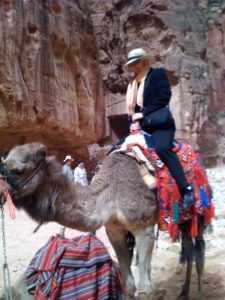 Transitions change your internal and external world. Once you have met these challenges, you'll begin to see how transitions have strengthened you and made you more resilient.
Need help building your own resilience? As a life coach, I believe we can change our lives one day at a time. We're not broken, and we don't need fixing. We have everything within ourselves to create the life we've always dreamed of. Life coaching is all about changing the way you look at everyday circumstances, and helping you blast past roadblocks and build new skills so you can live your best life, now.
Even if you're already successful, hiring a life coach can help you up-level your life. In fact, some of the clients who get the most out of coaching are the ones who have achieved amazing things in some areas of their lives … but know they could be better in others. (Read testimonials from some of my happy clients here.) Let's work together to make sure you are living your best possible life – and showing up as the best version of you.
Contact me for a complimentary, no-obligations life coaching consultation to discuss the possibilities. Or use the Appointment Scheduler and pick a time that works for you. I coach 90% of my clients over the phone, and my DC-based Life Coaching clients have the option of meeting with me in person. I look forward to hearing from you.