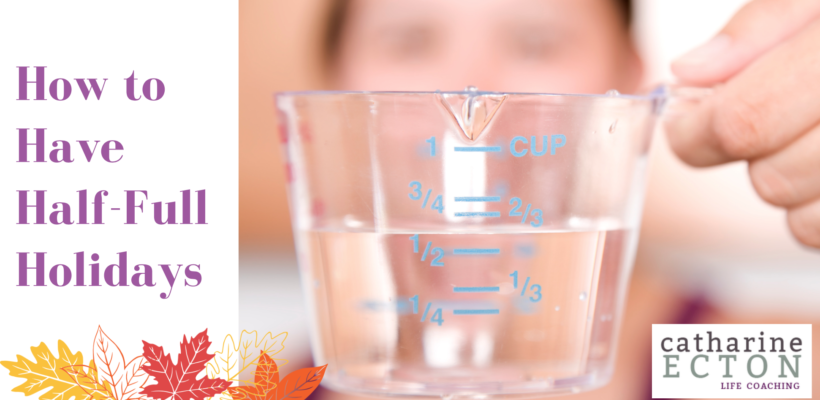 "It is precisely under crisis conditions when we have the most to gain by a grateful perspective on life," writes Robert Emmons in The Gratitude Project. "In the face of demoralization, gratitude has the power to energize. In the face of brokenness, gratitude has the power to heal. In the face of despair, gratitude has the power to bring hope."
As we look to the 2020 holiday season, many of my life coaching clients have heavy hearts. Chief among their worries:
health
family
job security
our political climate
loneliness
the blandness of their lives right now
"No one I know has died, I didn't lose my job, I have a comfortable home—so what if my holiday plans got canceled? I should feel thankful. But I don't."
The whole concept of gratitude can feel distracting, delusional, or even offensive and privileged to many of us right now. But here's the thing. No one, including ourselves, gets to tell us what we should or should not feel. And because of our tendency as humans to overlook the good, or take things for granted, it's easy to neglect the things that enhance our daily lives. During the pandemic, we've been moved by expressions of thanks to essential workers, heartfelt messages from family and friends, food deliveries, and other random acts of kindness. But appreciating what we have in our own lives right now, or "looking on the bright side," can feel totally misguided, especially if we have lost jobs or people we love.
In reviewing a catalog of public expressions of gratitude during the pandemic, Berkeley University discovered a vivid progression from shock to acceptance, then a growing appreciation people developed for the little things:
family members
pets
nature, and
the kindness of strangers.
In one study, researchers found that people with chronic disease who kept a gratitude journal experienced more positive emotions, fewer negative feelings, connected better with others, improved their sleep, and felt more optimistic about the week ahead – even more satisfied with their lives. (Read my post on Gratitude Journaling here.)
How often you practice gratitude is up to you. Sometimes, gratitude has to be gritty. It's good for you and will pay off in the long run, but it might not feel good at first. It will require some begrudging effort in the short-term. And some days, the effort might be more than you can manage. But just like exercise, it feels so much better afterward, even when you thought it wouldn't. Appreciating what you have in a half-full cup is always better than focusing on the empty space.
When you feel like everything is falling apart, remind yourself to work your gratitude muscles. Notice the good, and the gifts in your life. It's not self-indulgent. It can be an act of courage.
Need an ally in this work?
Right now, many of us are struggling. But Life Coaching can be a lifeline back to what makes your life so special.
"That was the best hour of my week!"
So said my client Martha* after another very worthwhile and meaningful session. It validated that coaching works.
Coaching can be hard work. But with the right tools, powerful questions, and the courage to focus and adjust, we can find the sweet spot to balance the changes – and let go of the anxiety and stress getting in the way.
Contact me today for a complimentary, no-obligations life coaching consultation to explore the possibilities. Or use the Appointment Scheduler and pick a time that works for you. I conveniently coach clients over the phone, around the world. I look forward to hearing from you.