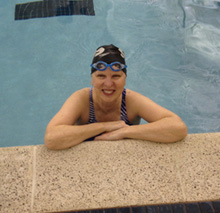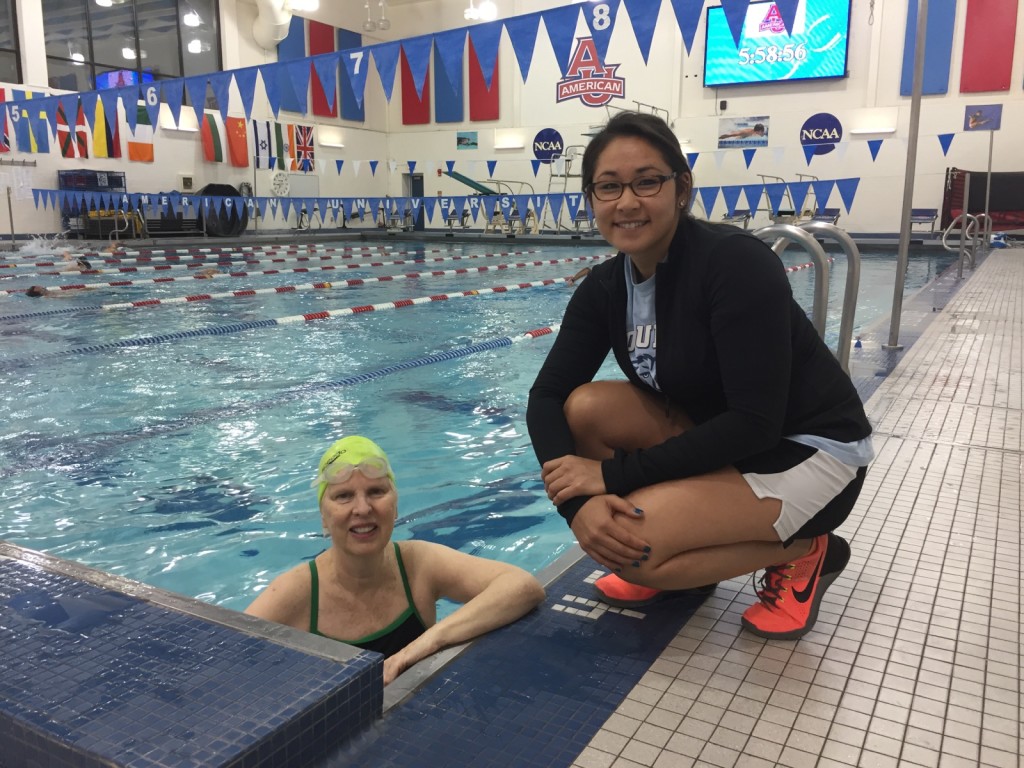 As a Life Coach, I'm endlessly fascinated by the topic of motivation. It seems to be at the core of so many of our struggles as human beings. You might be surprised to learn that I too struggle with motivation! I had begun to feel my early morning swims were becoming routine. Sure, I connected with people I enjoyed. It was great exercise. But I had stopped competing about three years ago. I began to ask myself, what was I doing it for?
Then recently, L4 changed coaches. Coach Delghi, pictured with me at the pool above, is also a chiropractic doctor. When she started working with us, she spent time asking the right questions:
What are your goals with swimming?
What do you hope to accomplish at practice today?
Why are you here?
Even though these were the exact same questions I had been asking myself, working with Coach Delghi I felt a renewed connection to the sport I love. This is because of 3 Cs that I also practice in my life coaching:
Connection
Caring
Capabilities
Connecting to someone who cares, who has capabilities and with whom I have a connection is helping me stay focused.
Life Coaching: How to Stay Motivated
Scientific American recently posted an article about motivation that backs this up. Researchers looked at students, athletes and employees, and identified three critical elements of long-term motivation:
Autonomy. Feeling in charge, self-directed or pursing an activity for its own sake (the opposite of feeling "forced" to do something) predicts how motivated people are to stick with a particular course of action.
Value. Reflecting on why an activity is meaningful to you specifically, or how it aligns with what you value, can make you feel more invested in it.
Competence. Plain and simple: if you're good at something, you're more likely to keep doing it. But what does that mean for those who are trying to master something new?
Researchers found that those who credit innate talent for their own personal successes tend to give up more easily when facing a new challenge.
Those who talk about getting there through "a lot of hard work" are able to sustain motivation longer.
Believing in yourself, and the value of your hard work, is key to keeping you inspired.
Life Coaching: How to Find Your "Zip"
So what are my goals for swimming? I told Coach Delghi I'm working on my "zip". Here's how:
Practically, I'm not trying to swim faster.
I've begun counting my strokes and breaths, working on becoming more efficient as I swim down the pool. I asked Coach Delghi how many strokes and breaths she takes. She's such an efficient swimmer, I realized her count was above and beyond what I wanted to try for. Just working on minimizing my own strokes and breaths one at a time has really helped me focus.
The result: I'm not on auto-pilot anymore when I swim. I'm focused, putting more energy and thought into each lap.
Working towards an unrealistic goal can get frustrating, and can actually sap our motivation. The timing has to be right to take on a new challenge. Being in cruise control was fine for me last year last year. Sometimes switching it up to a new activity or regimen (like when I tried kickboxing) is more helpful.
But now I'm on a roll, and the momentum is carrying me forward. When I get home in the mornings and find my husband just waking up with his morning coffee, I feel ready and excited about my day. I'm already in first gear, ready to shift into second. It puts me in a positive and energetic mood for my day. I even find myself thinking, "maybe I should get back into competitive swimming …"
My "zip" spills over into other areas of my life and day. I find I have more energy, I'm thinking more positively, I have more focus, and more interest in connecting my "lessons learned" in swimming to new areas of my life.
Remember: The kind of "zip" I'm getting from swimming is a feeling. Feelings come from within, not without. I believe that when we work on creating the feelings we want from within ourselves, we inevitably watch the whole world open up like an oyster.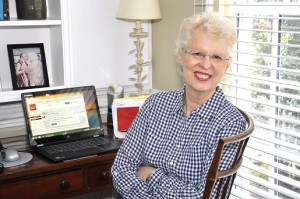 If you get stuck, enlist an ally to help you in this work. I'm here to help you. Call Catharine Ecton Life Coaching or schedule your free Life Coaching consultation today. In my blog about Life Coaching vs. Therapy, I discussed the differences and reasons why you might want to hire me as your life coach. You can also learn more about how Life Coaching differs from from friendship here.
Contact me for a complimentary, no-obligations life coaching consultation and we can work on lighting up your life, giving it more purpose and meaning. Or use the Appointment Scheduler and pick a time that works for you. I coach 90% of my clients over the phone, and my DC-based Life Coaching clients have the option of meeting with me in person. I look forward to hearing from you.