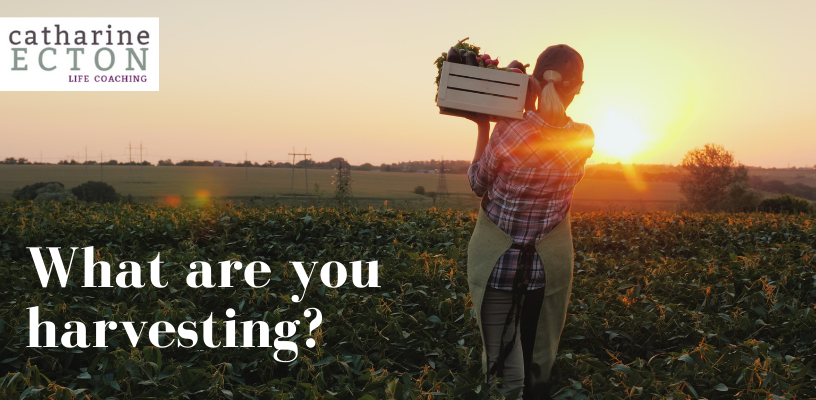 As a life coach, I'm interested in looking at what my clients are harvesting in their lives:
Good health or poor?
Wonderful relationships or loneliness?
Fulfillment at work or feeling "stuck"?
Whatever is coming up in your life, it's important to both take credit for the successes – and learn from any mistakes, missteps, or failures.
How & Why to Celebrate a Successful Harvest
In our culture, it is common to focus on what's not working. We fixate on our supposed shortcomings and vow to do better next time. Many of my clients need to be reminded to also recognize the good things they are harvesting in their lives! Here's why:
It feels good. Feeling good is what it's all about! Psychologists say we are typically more driven to make changes in our lives when we can see and feel an immediate reward. Avoiding punishment is a lesser motivation. Focus on what you've accomplished, rather than a long overwhelming list of what you've still got to do. Celebrate every success, no matter how small the win, to cultivate more success.

It's effective. When you know what's working well for you and why, you'll be able to replicate that in other areas of your life. For example, maybe you're successful in your physical health. Examining that success, you see it's because you follow a plan or routine. Could you follow a similar plan or routine at work? How about with your relationships?

It's incremental. When you notice the small wins along the way, you have the chance to reinforce the changes you're making. This can have a cumulative snowball effect.

It's communal. Celebrating your own personal harvest isn't just about you. When you share your wins around a holiday table, for example, it can give others the chance to join in. Thank them for the role they played in your wins. Set a positive example, and give others permission to celebrate what they are harvesting.

It's a "peak state." As you review your harvest, celebrating your wins becomes contagious. As accomplishments are properly recounted, new ideas and opportunities can be formed and shared. In a peak state, you feel you can accomplish anything. When surrounded by others who are also in a peak state, it's natural to look for ways to collaborate and strengthen your network of achievers.
Harvesting Something You Don't Want?
As you review your harvest, you're bound to find things ripe for change. Did you make a mistake or bring something in you don't want more of? Excessive worrying about or fixating on past mistakes won't get you anywhere productive.
However painful and unpleasant our mistakes may seem in the moment, they are part of life. They can hold kernels of useful information.
Losing a job can bring fresh opportunities
The loss of a friendship could signal that you've grown
An injury or illness could be a signal from your body
This season, I encourage you to give yourself an opportunity to review your harvest and linger on the positive. Focus on gratitude for both the wins and the lessons, which increases happiness and extends your life. People who do this regularly tend to be more optimistic, take better care of themselves, and tend to be less stressed.
If you think you don't have anything to celebrate this harvest season, think some more. There is so much in life to celebrate: firsts, transitions, anniversaries, even the tiniest progress towards goals. You can celebrate the first tomato from your summer garden, the first day of autumn, the family coming together again for the holidays, or the first snowflake of the season. You can celebrate your kids' transition back to school, your spouse's return from a business trip, or even crossing the tiniest task off your to-do list.
Our failures are learning moments, but our successes are the fuel that keeps us going. Always celebrate accomplishments – no matter how small. Track your progress so that you can see how far you've come, even if you haven't yet reached your ultimate goal. It will help you stay positive, which is the key to continued success.
Life Coaching This Harvest Season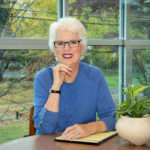 The holidays – from Thanksgiving through the New Year – can be a challenging time as we review the past year and look to the one ahead. If we get stuck focusing on past difficulties and future worries, things can start to feel heavy. Life coaching with me, Catharine Ecton, is about noticing, identifying, and focusing on assumptions, beliefs, and self-limiting thoughts that might keep you from moving forward to reach your goals in life. I believe that by working collaboratively, we can change our lives one day at a time through life coaching. When you don't know what your goals are, or should be, we'll work to discover the ones that ring true to you. With the right tools, a few powerful questions, and the intention to create a life and relationships that are authentically yours, you too can find the answers you seek and get to where you want to be.
As with any big change, it is so much better when you have an ally to help you in this work. To enlist my help, call Catharine Ecton Life Coaching or schedule your free Life Coaching consultation today. In my blog about Life Coaching vs. Therapy, I discussed the differences and reasons why you might want to hire me as your life coach.
Not sure if Life Coaching is for you? Read Life Coaching testimonials from several of my happy clients here.
Contact me for a complimentary, no-obligations life coaching consultation and we can work on making your life a more powerful, positive one together. Or use the Appointment Scheduler and pick a time that works for you for a phone consultation. You don't necessarily need to find a life coach near you! As a Washington DC based life coach, I can relate to anyone working in a high-pressure, high-stakes environment or feeling they want more out of their life. I coach 100% of my clients over the phone and can accommodate most schedules. I look forward to hearing from you.